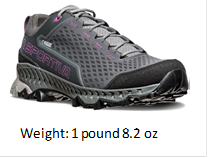 Brenda's Gear: Shoes and Socks
The shoe selection is probably more important for me than the type of backpack.
A couple of years ago I had surgery on my right foot. What should have been a relatively easy recovery lasted months; my foot has never felt the same in any way. So after trying on LOTS of shoes, buying some and returning them I decided on the "Woman's La Sportiva Spire GT" shoes.
Waterproof GORE-TEX® SURROUND® membranes
<![if !vml]>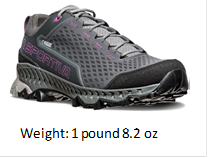 <![endif]>Protection from rain, mud and streams is a priority, but you don't want to hike in sweaty plastic bags. The durable, waterproof GORE-TEX® SURROUND® tech in these shoes has patented vents to channel internal moisture and heat away from your feet and out of the shoes, so you stay dry and comfortable.
Vibram® XS Trek outsoles
Engineered to keep you stable on unpredictable terrain, these durable rubber outsoles deliver traction even when wet. They're flexible and responsive—and they're nonmarking, so you won't get in trouble if you wear them inside.
Some of the Nitty Gritty on This Shoe:
It's not cheap – will cost you around $190. I purchased these at REI.

Waterproof was a must for me because rain in Spain in October-November is probably a YES.

It's a real hiking shoe ankle high, lace up

The ventilation outlets into the mid soles that are designed to give structure and torsional stability for comfort. This is real good for me since I walk weird after my foot surgery.

<![if !vml]><![endif]>

Aeration channels are within the foot bed. My feet sweat a lot and this should help. If you hold the shoe up you can actually seethrough the channels on the bottom.
If you take a look at this you'll see all the things that could get hurt, broken, strained and pulled in your foot. I'm doing all I can to avoid any of that and also went to THE GOOD FEET STORE.
I purchased one item at this store to help me with my walk:
Clear Flex 5 ArchSupport – sit down when you hear this. It cost about as much as the backpack and hiking shoes. – a whopping $369.95. But it is working. I'm not getting as much pain in my foot, ankles and lower back. These are transferable so I take them out and use them in all shoes.
This is customized and re-fitted if necessary to your foot. So you may have to go back if the fit doesn't feel right or something is bothering you after the initial visit. They have great customer service and my particular contact has been good with follow.
You can buy those Dr. Scholl's in any drugstore these days and I have, but they never worked for me, so thus my wonderful husband put me on to these guys.
<![if !vml]>

<![endif]>SOCKS
Oh My! So Many to Choose From!
After reading through the Camino de Santiago blog and soliciting feedback from people who have done the hike, I selected Injinji liner and hiker crew socks.
<![if !vml]>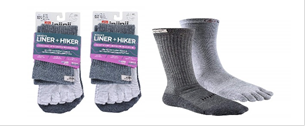 <![endif]>
<![if !supportLists]>· <![endif]>2 piece set includes a thin CoolMax toesock liner, with an outer NuWool fitted sock for extra cushion
<![if !supportLists]>· <![endif]>Constructed of Nuwool – an Australian Merino wool that minimizes moisture and friction buildup
<![if !supportLists]>· <![endif]>Individual anatomic toe sleeves form a thin anti-blister membrane between toes to eliminate skin-against-skin friction
<![if !supportLists]>· <![endif]>Ideal for every hiking adventure, from short hikes to multi-day backpacking trips