O Cebreiro was our starting point on day one. A small village of stone buildings, lodges, a few taverns/restaurants and a charming church where we obtain the first stamp on our "Pilgrims Passport ". 2 stamps a day are required to certify your pilgrimage. (See photo below)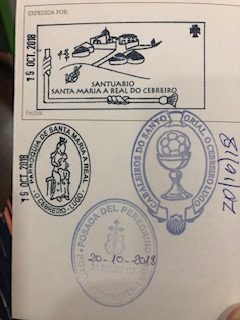 On our first night in O Cebreiro We met a threesome, Barbara and Bill who are husband and wife and their friend Dave who were on the trail together.
They were from Palm Springs and hike regularly together. Barbara and Bill started in France in September and Dave met up with them in O Cebreiro  joining them the same day that we arrived.
We met in a restaurant and share dinner and Barbara and Bill gave us thoughts, insights and tips on the Camino. It was our first of several great experiences with pilgrims on our very first day.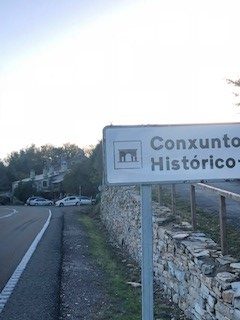 Above the lodge we stayed in in O Cebreiro
Below our first step on the trail.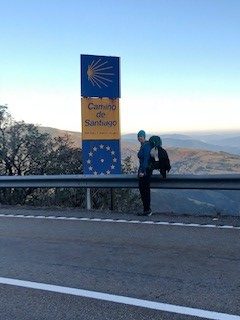 Along the way we met a group of Korean pilgrims from Seoul who all but adopted us 😊. As we "leap frogged" past each other along the trail the shared ( in broken English) their time on the trail, photos of their families and as we went our separate ways a gift pendant and a note to "friends" met on the Camino
Below "Julie" our Korean friend.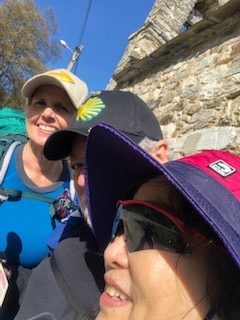 One of The many country chapels along the way.
Lunch at the only sizable eatery we saw on day one between O Cebreiro and Triacastela.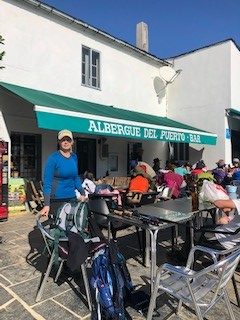 We were pleasantly surprised that although many of the trails, more or less, paralleled the highways they were far enough off the road as to be unseen and unheard  and we spent hours on beautiful, well-traveled trails through the agricultural lands of Spain.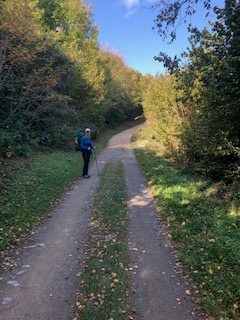 At days end We were both exhausted and re-invigorated, happy to finally be on the trail and moved by both the experience and the fellow travelers  encountered on day one.
Below is a screenshot from our Apple "Activity" application to provide an indication of what our first day activity totaled.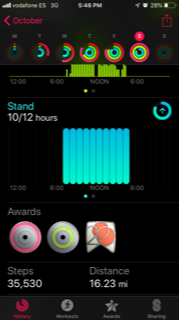 Just over 16 miles on steep  uphill and downhill terrain and as I write this post the sun is coming up we are finishing breakfast and preparing to start another day.
Buen Camino