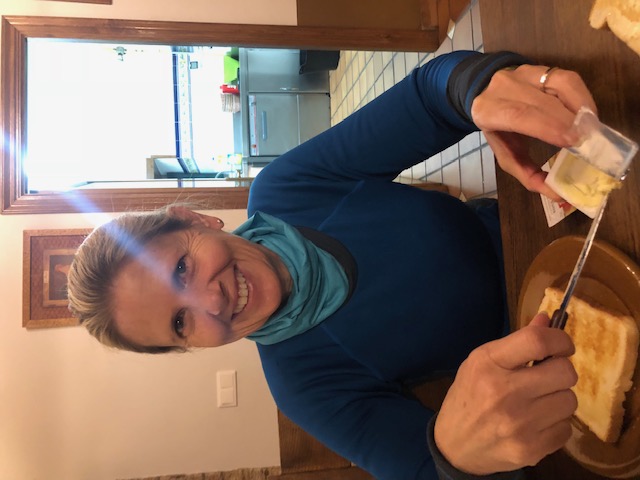 Today we started out for what was planned to be a relatively light day, traveling from Eirexe to Leboreiro, a distance of only about 12 miles by the grid; the guide is typically off by about 2 miles.
Our breakfast has become a routine of 2 pieces of toast and jam each, coffee for me and Coke Zero for Brenda, today was no different.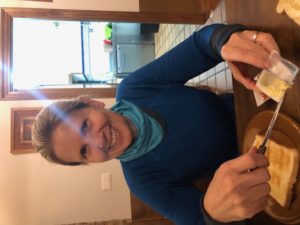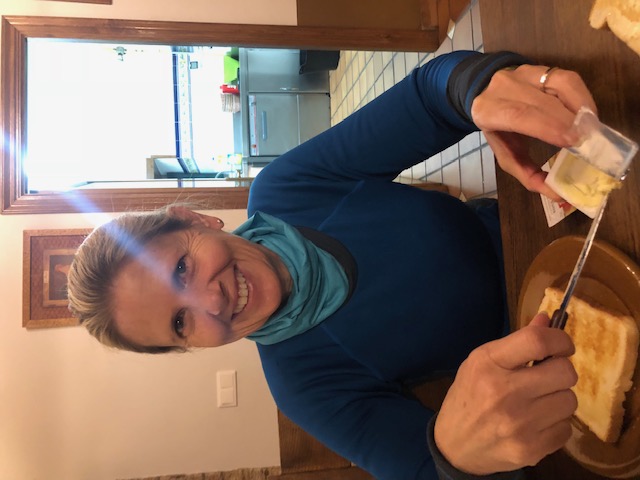 We began our uphill climb from Eirexe around 9:20 with a temperature of 45 f and both wearing 3 layers with a light undershirt, a long sleeve T shirt and a Polartec outer layer.
Between the walking and the absolutely perfect weather it typically is warm enough by 11 or so to lose the polartec and the next layer by noon. For me the lower half of the pants legs goes about the same time and I am down to T shirt, shorts and back pack.
Along the way we were excited to finally find a village with no cow poop on main street and some salve for the one malady for which we were unprepared.
We packed Aleve for back pain, Excedrin for headache, foot patches for blisters, sun block and more but on day 5 I was struck with something new; a rash in the nether region! Although explaining the exact problem to the lady at the pharmacy who spoke no English and seemed to enjoy making me repeat my gestures was a bit of a challenge, ultimately I was given some Desitin like ointment which has done the trick!
As we left the pharmacy in Palas do Rey we saw a sandwich shop across the street and decided to stop for lunch.
Seated next to us was an American and as we chatted we asked the most common questions heard on the Camino"where did you start?" and "when did you start?"
Tuckers answer was "I started in France". Now typically when we have asked the second question "when did you start" we hear "September the ___th" or in one case it was August. We were rather surprised when Tucker responded "5 years ago…!"
Tucker is a poet and editor from Asheville, NC and is a self described "heavy man" and as such he travels about 8 miles a day and tries to be done each day by noon or one o'clock.
Given time allotted he decided to travel the Camino in sections when he was free each year and we were lucky enough to meet this charming gentleman on the year he would finally realize his goal!
It was another of those chance meetings and after finishing lunch and saying our goodbyes we realized that given the difference in pace the odds were overwhelming this was one new friend we would not see again along the Camino.
In contrast to Tucker there was Jennifer and Duane. Duane is a doctor with a practice in Portland and Jennifer has many international treks in the several hundred mile category.
Duane, having been kept away from Jennifer's travels by his practice (and perhaps, truth be known, a lesser desire to walk places that one could reach by motor transportation) was accompanying Jennifer for the first time.
Jennifer and Duane agreed to do the last 100 km of the Camino and although they walked faster than we do they also seemed to take more breaks (at Duane's request I'm sure) so we ran into each other several times today.
They were easy to spot, Jennifer had the only "self supporting" umbrella contraption we have seen on the trail so she could be seen from quite a distance and got A LOT of peculiar sideways looks.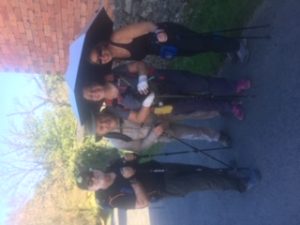 The last time we saw Jennifer and Duane yesterday we asked where they were headed " we are going to try to get to Leboreiro then catch a cab to Casanova". "BUT YOU'VE PASSED CASANOVA SEVERAL KM BACK""
"Oh, we know that. Our bags are in Casanova but we had some extra time today so we figured we'd get in some more hiking, take a cab BACK to our lodging and then get a cab in the morning to bring us back to where we left off. GIVES US A HEAD START ON TOMORROW WITHOUT CHEATING THE TRAIL"!!! Only on the Camino!!
Today's profile.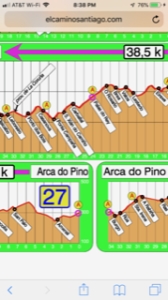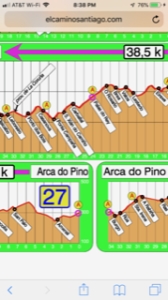 Buen Camino