Awake and alert as had been our norm, I prepared to meet the day.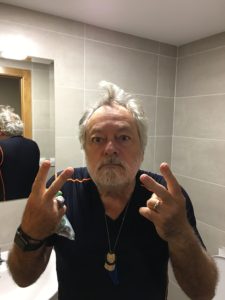 Leaving Leboreiro at full sunrise we were off for Ribadiso. As the graphics below show, my brilliant planning ( or perhaps fortuitous circumstance) allows us to start the day with a relatively easy walk for a change.
The walk from Leboreiro to Boente was the most consistent level stretch we had encountered followed by several kilometers of steep incline to end the day.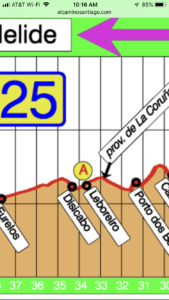 At our first stop of the day we had the opportunity to lunch with Norman (picture below) from Denmark.
Conversation, as always, lead towards the trail and the inevitable question "where did you start?"
Norman's response was "France, this time", begging the question "how many times have you traveled the Camino?" ELEVEN!!! 3 of which were the ENTIRE French route.
His wife having passed away Norman has found a kind of spiritual solace and family among the frequent travelers along the trail.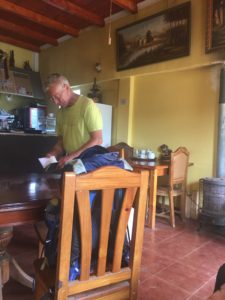 Norman spoke fondly of his many trips and people like "Tom from Texas" who are on the trail, traveling with no funds, camping and foraging for apples and pears along the path; the "Family Camino".
Although it's hard to tell in the photo below, as we get closer to the large cities the mix of the ancient and modern becomes apparent.
Here the Camino is sandwiched between an ultra modern manufacturing facility and a freeway!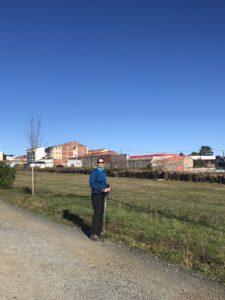 One of the more charming chapels on our trip was outside Melide. Ancient stone on the exterior and a beautifully maintained interior.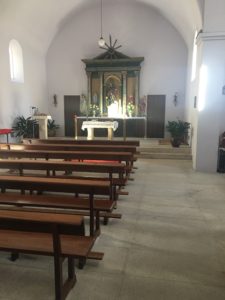 Something no amount of reading or watching of video had prepared us for was the wide range of music we would hear along the Camino.
Pilgrims passing us with earphones loud enough that we could hear native music from many nations as well as contemporary rock and roll. None loud enough to be heard from more than a foot or so away or in any way annoying, just an interesting mix.
Having said this, we were more than a little surprised as we crested a hill and heard someone playing bagpipe music in the distance.
As we rounded a bend and prepared to cross a small stream we were face to face with the source of the sounds!!!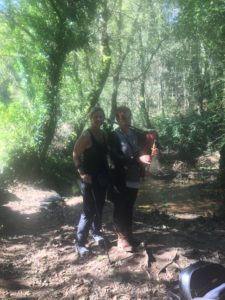 Aileen is traveling the Camino and earning some extra money by camping along the trail and playing bagpipes for pilgrims along the way!!
Another interesting day filled with surprises on the Camino!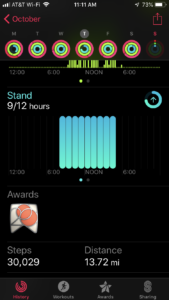 Buen Camino